Reviews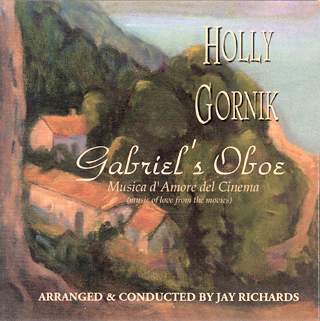 Testimonials:
"Bless you for the CD. Of all the music in all of the movies I have produced, you chose my favorite theme.
I never heard it sound better – and it reminded me of how sad it is that Morricone has still never won and Oscar!"
– The Lord Puttnam of Queensgate,

"I just now found the chance to listen to Gabriel's Obe and I thought it absolutely fabulous! The sensitivity with which the emotions are expressed over the loveliest of musical backgrounds is nothings short of inspiring.
Bravo, . . . for giving me those joyful moments."
– Anton Coppela, New York, New York

"Thank you so much for the CD. It is a nice and relaxing counterpoint to Southern California traffic."
– Steve Henry

"This is an absolutely marvelous CD. A friend and I each got one at the Little America Gift Shop this past weekend, it is so very beautiful, uplifting musically, a wonder to hear.
To all who were involved in producing, marketing this CD, thank you for sharing your talents and gifts of music."
– Seth C. Miner

". . . It is exquisitely beautiful. For years I have tuned my radio to KBYU to take advantage of the classical music they play. I found the same qualities in the music on your CD that attract me to classical music: its elegant beauty, its soothing, calming quality, and its ability to elevate my soul." – Edy McGee, Midvale, UT

". . .At the end of the day, I was tired and turned on your CD and felt relaxed once again. Sounds beautiful!"
– D.B.

"I can't begin to tell you how much I have enjoyed Gabriel's Oboe –
. . . Living alone, like I do, there are so many times when your music mean so much to me."
– Afton Whitbeck.

"I wanted to thank you for producing such a beautiful CD. . . Everything abut it I found amazing – the arrangements are beautiful and your artwork – Wow!"
– Dale Strobel

"Your labor of "love" in creating this lovely CD is impressive. The interesting selections, and of course, your incredibly beautiful tone and phrase shaping contribute to the pleasurable listening."
– Linda Petersen

"I enjoy your CD so much, it is by far my favorite listening music. I sent one to my cousin in California (she plays violin). She agrees, it's one of her favorites also."
– Judith Briger
"I recently attended a recital by the Utah symphony orchestra. During the intermission I asked one of the sales clerks to recommend some very mellow, beautifully rendered classical music. She recommended Gariel's Oboe, which she said was used by her anesthesiologist. She so much enjoyed the music that after she recovered from her operation she purchased this selection.
She told me that this was an especially beautiful selection of contemporary oboe adaptations. On her advice I purchased this album and only disappointed to learn that Holly Gornik has not yet cut another album. When she does, I will be one of the first to buy it. Fabulously mellow music. Lovely, lush tones judiciously interwoven with equally delicious strings and horns. Buy this CD!!! You will not be disappointed."
– William R. Toddmancillas, Amazon.com
Excellent example of the surreal beauty of the Oboe.
Holly Gornick is definitely one of the finest Oboe master in the World. The instrumental arrangements are superb.
– Joseph P. Stan, Amazon.com
This is a great, relaxing CD. The music is wonderful! This has become one of my favorite CDs to play.
– Rita O'Farrell, Amazon.com
On a recent trip to Park City, we Stopped in at Le Niche and heard the most beautilul oboe music playing. Upon inquiring, I discovered that you were the Holly Gornik who used to come to our home and take oboe lessons from my father, Louis Booth. My eyes filled with tears as I thought of the beautiful talent you possess and the fact that, in some small way, my father had been a part of developing that talent. I could even hear strains that sounded so much like my dad playing. We are thrilled to be ordering your C.D. and will give this address to my brother and sisters, so they can order their own. Best of luck in your future musical endeavors.
– Nicole, (Nicky), Booth Ramjoue
Gabriel's Oboe: Musica d'Amore del Cinema
Holly Gornik is almost certainly an unfamiliar name, so a little biography is in order. She is an oboist and English hornist with the Utah Symphony, and an adjunct professor at the University of Utah, Weber State University and Westminster College. A talented artist, responsible for all the artwork on the present album, as a freelance musician she has performed on the soundtracks of over 275 film and TV scores. This new album presents 12 tracks of what might best be described as elegant pseudo-classical arrangements of romantic film and television themes, arranged and produced by the film, theatre and ballet composer Jay Richards (The Silence of Speed). Richards also plays piano on the album, while making this both a thoroughly professional, yet at the same time entirely personal project, the co-producer and trumpet player is Holly's husband, Edward Gornik.
The set straddles a curious divide, containing attractive yet relatively obscure melodies from mainly Latin art-house productions which, taking the lead from the title piece follow largely in the melodic vein of Ennio Morricone, with a couple of pieces which would seem more at home on the average mainstream crowd pleasing MOR movie themes disc. These are a version of John Williams' "Princess Leia's Theme" from Star Wars, and James Horner's main theme from Titanic, complete with wave sounds. There's nothing wrong with them, but they seem out of place with the rest of the disc, only here to make sure there is something really famous on the album. Likewise one has to wonder at the inclusion of an arrangement of the central melody from the second (adagio) movement of Rodrigo's guitar concerto, the Concierto de Aranjuez. Certainly the music seems more in-keeping with the majority of the album, but though it has appeared in various films and TV productions (from Don Juan Tenorio in 1952 onwards), it is not film or TV music.
Nevertheless, such quibbles aside, this is a highly enjoyable release. The opening composition by Bebu Silvetti, Imperio de Cristal (from a 1995 Spanish TV series) certainly sounds imperial, commencing with a nostalgic piano solo before the main melody enters on oboe, a lovely lyrical theme. One can imagine a sweepingly romantic tale of fate, intrigue and love found and lost. Holly Gornik played the oboe parts for the original TV soundtrack, so this concert version of the themes is a most appropriate way to introduce this programme. Clearly music close to Gornik's heart, the disc ends with an effective piano solo reprise of the same theme. Indeed, the title tune, Morricone's Gabriel's Oboe fromThe Mission (1985), is also reprised as the penultimate track. The main version here is an excellent reading, described by no less than the film's producer, David Puttnam, as the finest he has heard. I certainly won't argue.
The Latin sensibility is continued with highly appealing music from the Italian dramas Il Postino by Luis Enrique Bacalov and Tea With Mussolini by Alessio Vlad and Stefano Arnaldi, as well as by an arrangement of the song "Con te Partiro (Time to Say Goodbye)", composed by Franceso Satori. Though the booklet doesn't say so, this last piece, sounding for all the world like an elegant film theme, actually orginates as a hugely successful 1995 hit song for Andrea Bocelli. A massive anthem in Italy, this melody has become a signature tune for the artist and become a piece of elevator music heard around the world. It has also been featured in several episodes of the TV series, The Sopranos, South Park and Providence.
The album ventures north for two Holocaust dramas, offering a strikingly noble interpretation of Marvin Hamlisch's theme from Sophie's Choice, as well as the more familiar Schindler's List by John Williams.
Something of a mixed programme which personally I would have preferred without the contributions from John Williams and James Horner, this is a hugely attractive release which is just the sort of disc which with the right promotion could take-off to become a surprise crossover success. Many of the tracks could slot right into the Classic FM playlist with no difficultly at all. Usually I wouldn't say that was a good thing, but this is an unusually dignified and refined anthology of subtle and lyrical film themes which deserves to find a wide market, from devotees of Light Music and "smooth classics" through to film music fans happy to accept both re-arrangements and a disc entirely free of action set-pieces. Holly Gornik's musicianship is first rate and the orchestral and other solo musicians provide a strong showcase for her remarkable talent. The artwork is most appealing too, and makes one want to head straight for Italian shores!
Gary Dalkin


Utah Symphony: Sounding off through the English horn

PUBLISHED FEBRUARY 6, 2010 5:55 PM
Holly Gornik's life as the Utah Symphony's English-horn player is marked by long stretches of boredom interspersed with moments of "absolute panic and terror" when she picks up a cold instrument to play highly exposed solo passages. Such is life for players of the oboe's alto-voiced cousin. Composers employ its haunting voice sparingly, but always with special intent. . . . read more.
Artist captures musicians at play
BY BECKY WRIGHT
Utah Standard Examiner
PUBLISHED OCTOBER 5, 2011
Holly Gornik's paintings offer a close-up look at musicians at work. They capture not only the faces of the players, but also their gestures.
The subject matter is a natural for Gornik.
"My profession was symphony orchestra musician for 42 years," she said. "I was always drawing and painting my colleagues." read more